Zucchini-lentil fritters, and the shape of ritual.
Adapted from: Piyaju, a traditional Bengali snack.
I didn't grow up in a household that revered cooking together, or saw it as a passing-down of precious traditions. For the most part, we were too busy adapting to a new way of life to make time for the old. Sure, we made dumplings occasionally, or hot pot in the winter—I know, from the intensity with which I hold these memories close, that they came around rarely. Cooking was by and large a functional responsibility that my father took on, fishing from a mental reservoir of recipes from his time in China that he'd never had the chance to codify. The rest of us would be scattered throughout the house, otherwise occupied until it was time to eat. These are the moments that will haunt me on my deathbed.
To my parents' surprise, my sister and I have emerged as adults with an inexplicable affection for cooking, and the constellation of worlds that surround it. In me, it has taken form as a perpetual yearning for ritual and communion, a nostalgia for a reality that was never quite my own.
This reality—the thick warmth of a space filled with people, a kitchen brought to life by clinking and clanging—came to mind as I read about piyaju, the Bangladeshi dish that inspired this week's recipe. It's a beloved snack commonly served as an item at the iftar table during Ramadan, and evokes its own nostalgia for what it represents. "After school, we'd sit together around the dining table, helping prep the ingredients," writes the author of Kitchen Gatherings, a Bangladeshi food blog. "What I miss the most are those afternoons together – all of us chatting, laughing, doing our bits to prepare Iftar."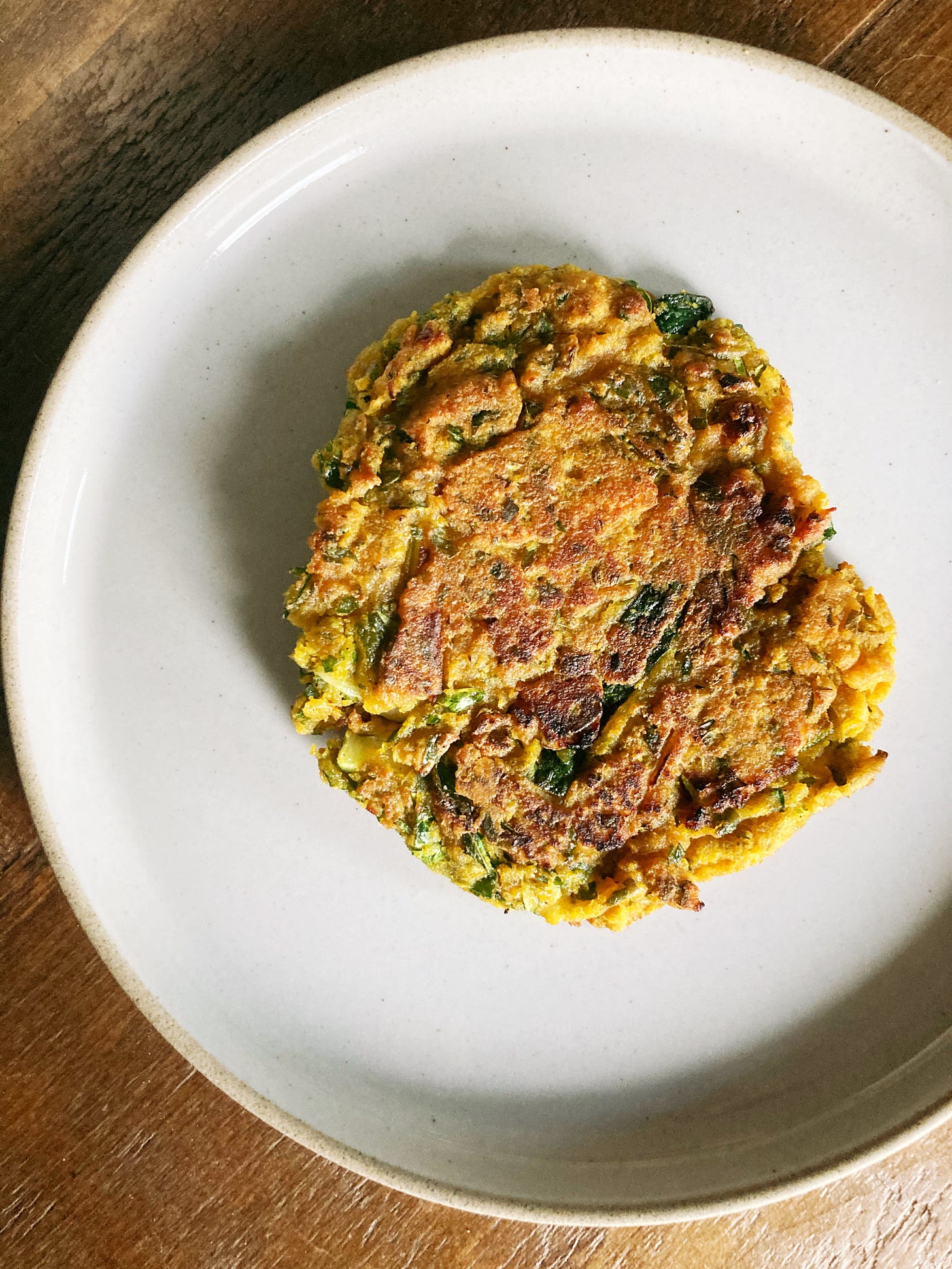 Piyaju is typically made with lentils, onions, chiles, and a variety of aromatic spices. The batter is chunky, and dense, like falafel, but it opens up into an airy crumb once fried. Some versions include vegetables like potato or carrot; in the adaptation I made, courtesy of Sohla El-Waylly at Bon Appetit, zucchini is the tender, mild counterpart to the crunchy, spiced lentil batter. I have always been indifferent to zucchini's soggy neutrality, but it emerges as a feature in this recipe.
The irony of using a Bon Appetit recipe to inaugurate a newsletter about contextualizing home cooking is not lost on me. But it was the long overdue reckoning at BA—ostensibly catalyzed by Sohla's statement on Instagram—that gave me the idea, so it seemed fitting to start here. In the headnote, there is a quick nod to the origin of the dish—an act of attribution rarely seen in BA recipes. I blame this brevity on the publication and not the writer.
But what is lost, when we strip food of how it's meant to be eaten, and focus myopically on the ingredients alone? What histories and realities are we effacing in the name of making recipes palatable to all? We are quick to embrace the virtuous notion of getting to know other cultures through their food, but just as quick to divorce these foods from the people, practices and politics that shaped them. Ramadan disappears. Piyaju is replaced by fritter, a word so broadly generic I can barely define it. Just another way to bind zucchini.
It feels like going to the museum just to look through a peephole. Why wouldn't you want the whole picture? I want to see the family gathered in the kitchen, elbow to elbow, each immersed in their own part of the meal. I want to smell the spices filling the room. I want to hear the candid conversations that can only be coaxed out of us when our hands are distracted by something else. The chatter, the laughter, the excitement of breaking fast. The music of it all.
Recipes notes:
Zucchini-Lentil Fritters With Lemony Yogurt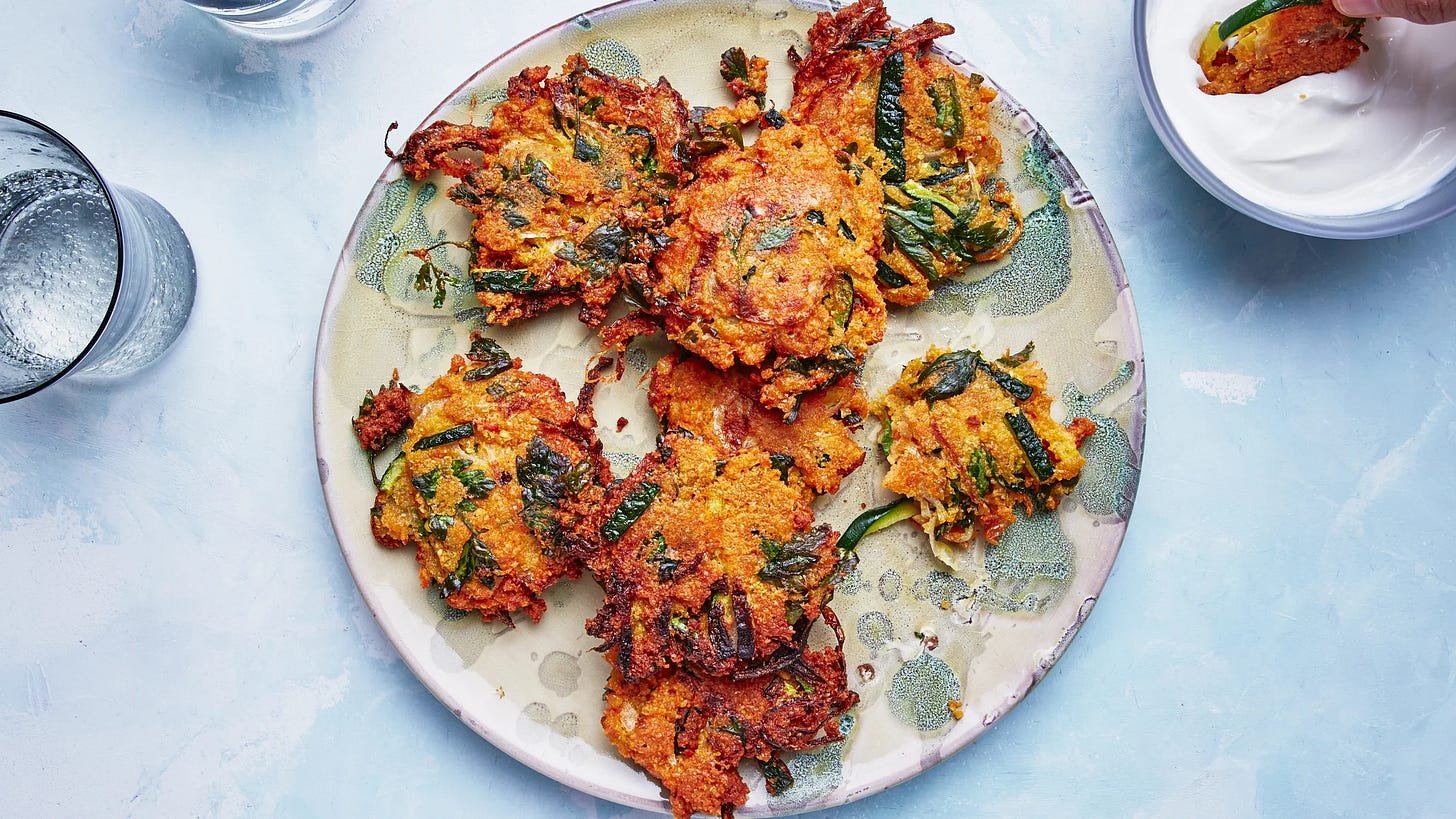 I followed a friend's suggestion and doubled the spices, then added cumin (1/2 tsp), and replaced 1/4 of the parsley with cilantro. The recipe yielded five dense little flavour bundles, each a perfect balance of herbal and earthy, crispy and soft. I served them with a goat's milk yogurt, (for lactose intolerance reasons, not a deliberate food pairing decision), which had just the right amount of pungency to complement the cumin.

Traditional takes:
• A spice-forward version, featuring two kinds of lentils, from Kitchen Gatherings.
• "Piyaju, through the reminder of warm childhood Ramadan memories, has become a symbol of the strong family bonds that we have."—Lail of With a Spin, full recipe here.
• Try it with potato and mint (!) instead, courtesy of Khadiza's Kitchen.
---
A gushy thank you to my sister, Emily, for the header for this newsletter. And I am grateful to you, dear reader, for being here. I am still trying to figure this format out, so if you have any thoughts, share away!
Until next week. 🥒
Tracy