Tapioca, potatoes, peanuts, and the dishes we cook by feel.
Adapted from: sabu dana kichedee, the Indian dish for fasting days.
I've known Shalaka, one of my best friends, for fifteen years. Her family is from India, and whenever I'd visit her house on the weekends as a teenager, her parents would offer me tastes of the dishes they were making. Often, they were flavours I'd never encountered before, which meant my brain automatically committed them to memory. One dish made such an impression on me, I begged for the recipe for all fifteen years of our friendship; as you might expect, it didn't exist. Her mom didn't cook by recipes. But this year, miraculously, she got her mom to take her through it, step by step.
More than any impressive cooking technique or precise knife skill, I have longed for the ability to cook by intuition: to take stock of any inventory, however sparse or incongruous, and be able to "whip up" something delicious; to know exactly how much of a spice to use, or how long something needs to sit on a stove; to exist in a world without units. When I was younger, I thought it was a skill you either had or you didn't, like perfect pitch—now I know that to think this way is to dismiss the experience of rote labour, the kind of instinct you can only hone from doing something a thousand times. In this way, and may other ways, any immigrant parent is as impressive to me as a Michelin chef.
Sabu dana kichedee, although it involves few ingredients, is one of those recipes that requires said experience. Tapioca is a finicky thing; I found this out the humbling way. (Don't love this track record lately, but I won't dwell.) If soaked in too much water, the tapioca congeals in the pan, creating a blob of silly putty texture that's frankly quite tasty, but unsightly compared to what sabu dana is supposed to look like.
Here is how mine turned out. Please note the mix of undercooked (white) tapioca balls, and gelatinous goop: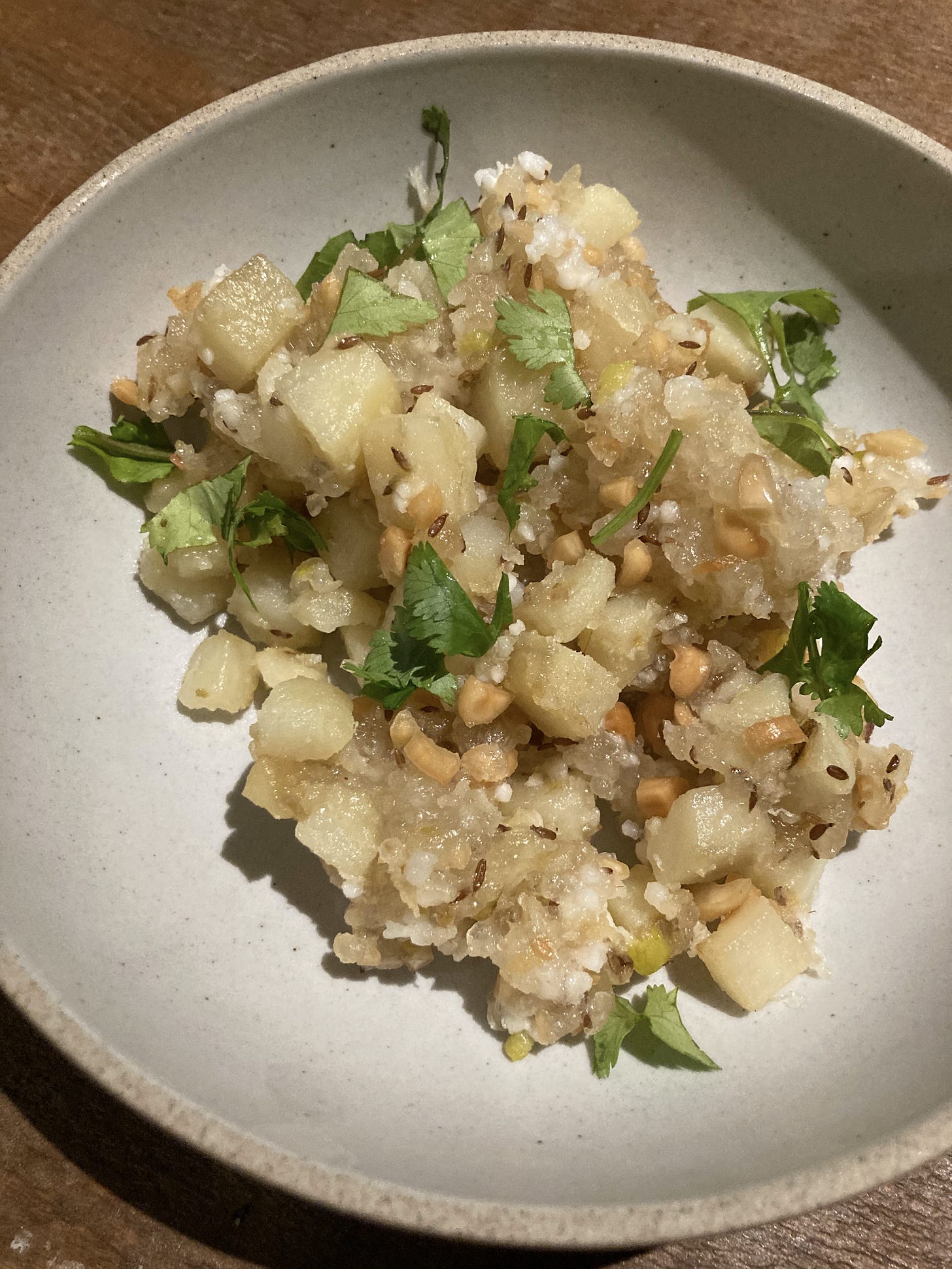 Here's what the dish is supposed to look like (picture via a similar recipe Samin Nosrat adapted for the New York Times):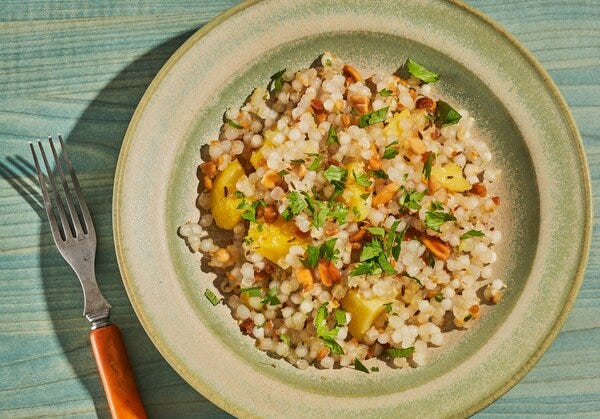 I texted Shalaka for the cultural context, which I lacked as a teenager. She tells me that the dish is consumed at her house on Saturdays, when her family fasts to appease Shani (the lord of Saturn, one of the nine planets according to Hindu astrology), the god that causes the most misery in your life. When fasting, there are a few things Hindus can still eat— this recipe is comprised of a few of those ingredients (tapioca, potatoes, peanuts among them). She also notes that fasting traditions are specific to different subcultures and families, and some Hindus don't fast at all.
Considering the number of times I've had this dish in my life (maybe twice?), my fondness for it feels excessive. But one taste of the goop I made, and I was transported back to her kitchen, and the thrill of trying something entirely foreign. The cumin potatoes are delicious; the tapioca chew is addictive. I am really grateful to have this recipe, and excited to share it with you. It is something I plan on making a thousand times more, until I no longer need to refer to it at all.
---
Sabu dana kichedee (tapioca with potatoes and peanuts)
My gratitude to Shalaka's mother's for the recipe.
Ingredients:
Small or medium tapioca (1 cup)

Potatoes (5-6 mini or 1-2 large), diced into small pieces

Ground peanuts (about 1/3 cup)

Sugar (1/2 tsp)

2 tablespoons olive oil

Cumin seeds (1 tsp)

Chiles (green or red), sliced (1-2, depending on heat preference)

Fresh coriander (handful)
1. Wash tapioca and drain most of the water, keeping some residual water in the bowl. Rest in bowl, covered, for a minimum of 4 to 5 hours.
2. When ready to cook, fluff the tapioca with a fork, and add ground peanuts, a punch of salt, and the sugar. Stir to combine (with as little stirring as possible) and set aside.
3. Heat olive oil in a large pan over medium-high heat; once hot, lower heat to medium-low and add cumin seeds and cut chilis, and toast in oil for 30 seconds to 1 min. Properly toasted cumin seeds will darken, but be careful not to let them burn as they become quite bitter otherwise.
4. Add potatoes and salt, and stir to combine well. Cook until potatoes are done.
5. Turn the heat to low and add the tapioca-peanut mixture. Stir to combine, being very careful not to smush the tapioca. Mix gently, breaking up lumps and evenly distributing the oil and spices over the tapioca. Once this has been achieved and there are no more lumps, cover the pan, occasionally stirring gently to ensure even cooking of the tapioca (again very important not to smush the tapioca!). The tapioca cooks fairly quickly so definitely stay nearby, and don't let too much time pass in between stirrings. Salt to taste.
6. The tapioca will be done when it becomes pearly and translucent. When it is cooked, remove the pan from the stove and top with fresh coriander.
If you don't enjoy spice make sure to set aside the cut chilis as you eat.
---