Stuffed peppers, and seeing the familiar as strange.
Adapted from: dolma, the Armenian way.
I've always been bored by a bell pepper. Growing up in Hunan (one of China's three "spicy" provinces), where my palate was formed, spiciness was as essential as salt. No meal was served without hot chilis: dried, fresh, pickled, we piled it all on. Spice tolerance was equivalent to strength of character. Using a mild pepper in a recipe instead was inconceivable. Later, after we moved to North America, I observed the bell pepper's role as a filler vegetable in Asian takeout—both because it is cheap and, I assume, to impart some of the aromatics without raising the spice level. Its allure never grew.
Since I started cooking for myself, and learning the fundamentals of other cuisines, my preconceived notions about ingredients and the limits of their usage have been turned on their heads. But the bell pepper's best side still eluded me. I knew it as something that you can roast for a sandwich or slice to serve with dip, but I'd never found a recipe in which it felt essential—a recipe in which it was given the room to sing.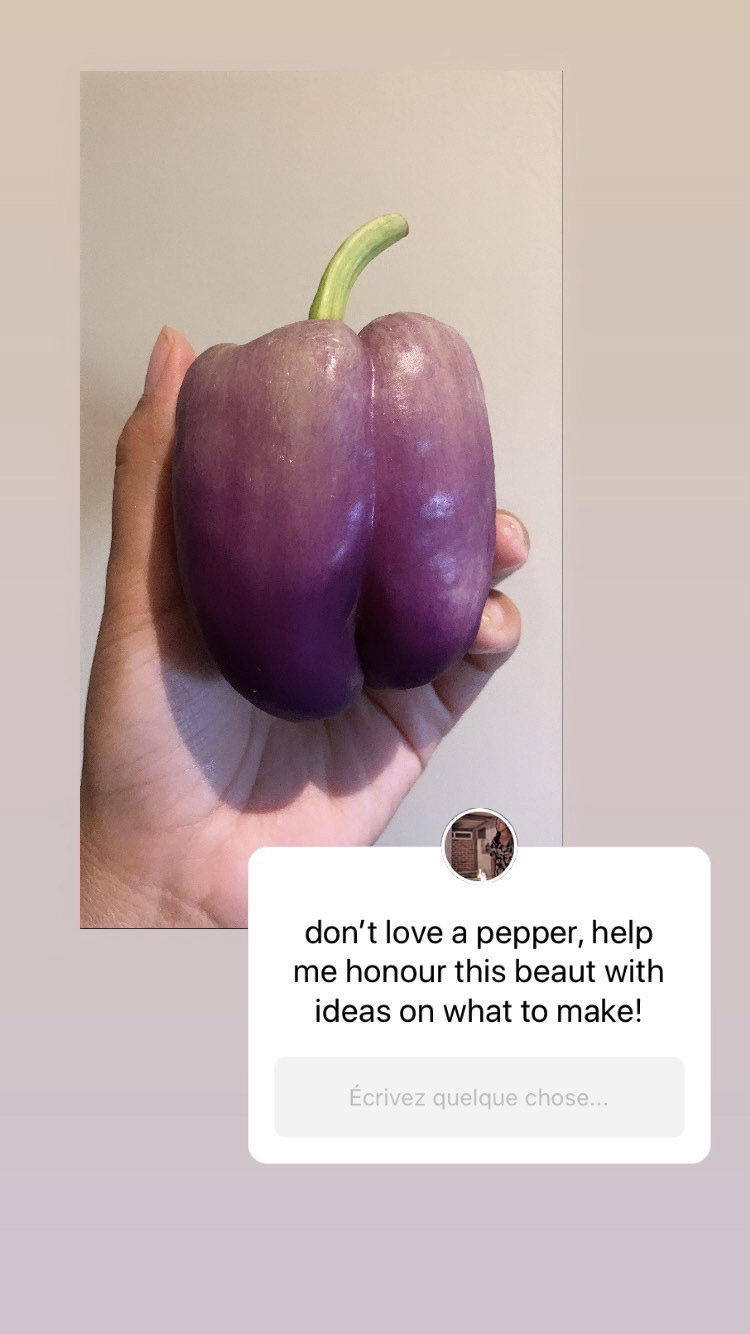 But then this purple alien of a bell pepper appeared in a produce box, and I felt the compulsion, as I do whenever I encounter a thing of beauty, to honour it fully. I felt like I couldn't possibly let it go to waste, even though it looked and smelled like any other bell pepper, and I'd let a fair share of those get soft and shriveled in my fridge.
Friends answered my request with a wide gamut of suggestions. Chopping it up for a mango salad. Stir frying it with tofu. Blending it into a muhammara. But overwhelmingly, the answer was to stuff it. It appealed to me: this way, the pepper remains intact as both the vehicle and the star of the show.
One friend suggested that I make dolma, which are a series of stuffed vegetable dishes from the Balkans / Caucasian countries / Middle East. I'd always thought the word referred exclusively to stuffed grape leaves, but it extends to all kinds of stuffed vegetables. (It is, as I just learned, of Turkish origin, from dolmak: to stuff, to fill.) The recipe she recommended was Armenian, in which bell peppers are stuffed with a mixture of ground lamb, rice, diced onion, spices and herbs, then cooked in a bath of tomato sauce and broth.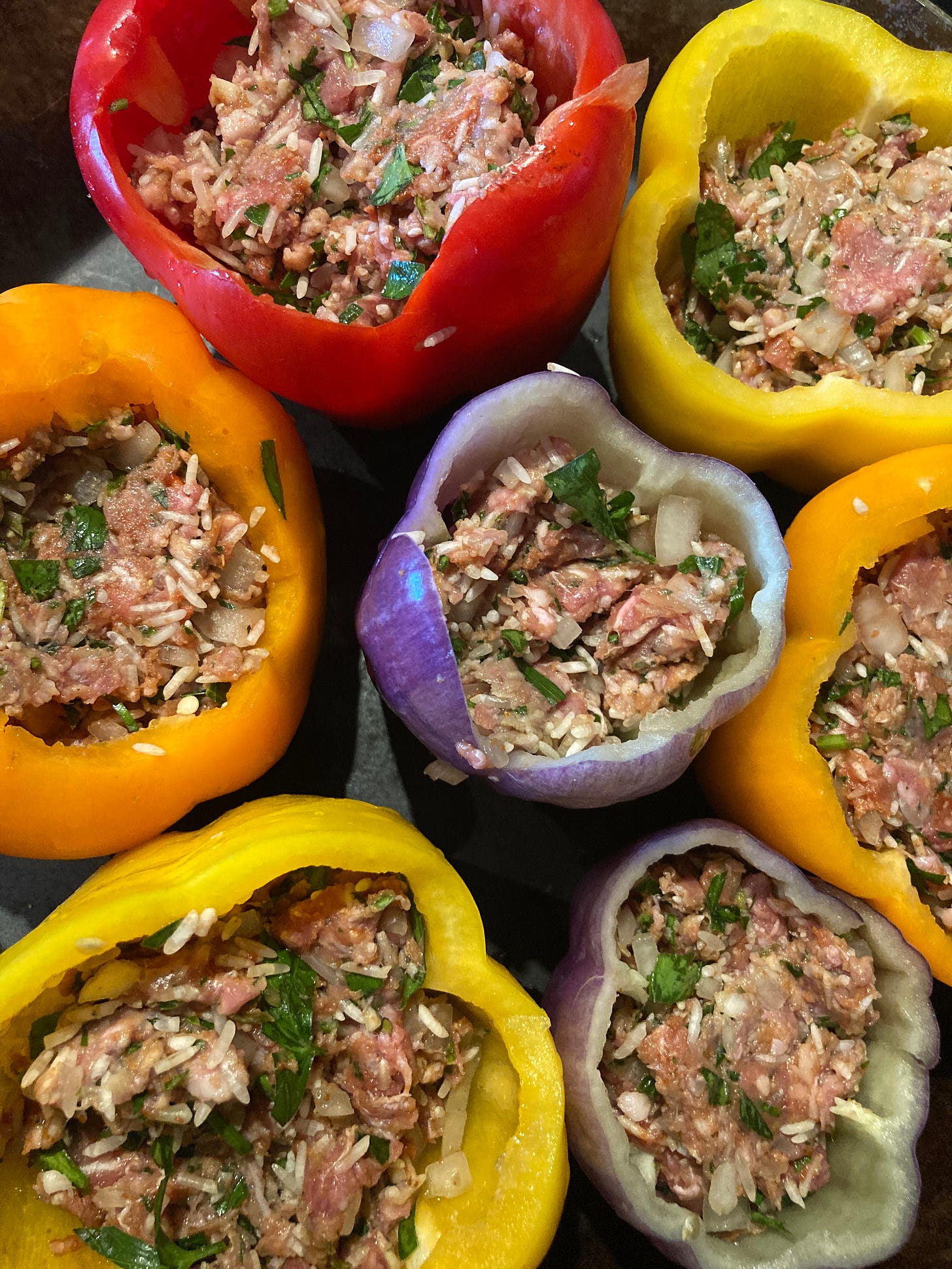 Suddenly, I was confronted with my own ignorance. Because truth be told, I'd always dismissed the concept of stuffed peppers as profoundly American, which is to say, culture-less, or so far removed from the thing it appropriated that it might as well be. The last time I'd made stuffed peppers was as a teen, a recipe from Allrecipes or Betty Crocker or something, in which it was stuffed with ground beef seasoned with Old El Paso taco seasoning ❗️ and smothered with pre-shredded mozzarella cheese. (The connections to Mexican chiles rellenos aren't hard to see. I just wasn't looking.)
The research on this one, dear reader, was humbling. Turns out different cultures throughout the world, from the Persians to the Koreans, have been making stuffed peppers for millennia. (If you knew this and I'm just late to the party, I'm sorry. If you didn't, I'll link to a few in the footnotes.) I wondered how a dish could be so pervasive, so I looked up the origins of the bell pepper: while Capsicum peppers (to be distinguished from Piper nigrum, black pepper) are native to Central and South America, the plant was brought back to Europe by none other than Christopher Columbus. From there, it spread to Asia.
All this to say, the more I learn about food, the more I realize how little I know, and how many assumptions I've made. It's the familiar made foreign, over and over again. So deeply, acutely humbling.
For the record, the purple cooked out of the pepper, rendering it a ghostly green. Oh well.
Recipe notes:
Armenian Mixed Vegetable Dolma, from the Armenian Mirror-Spectator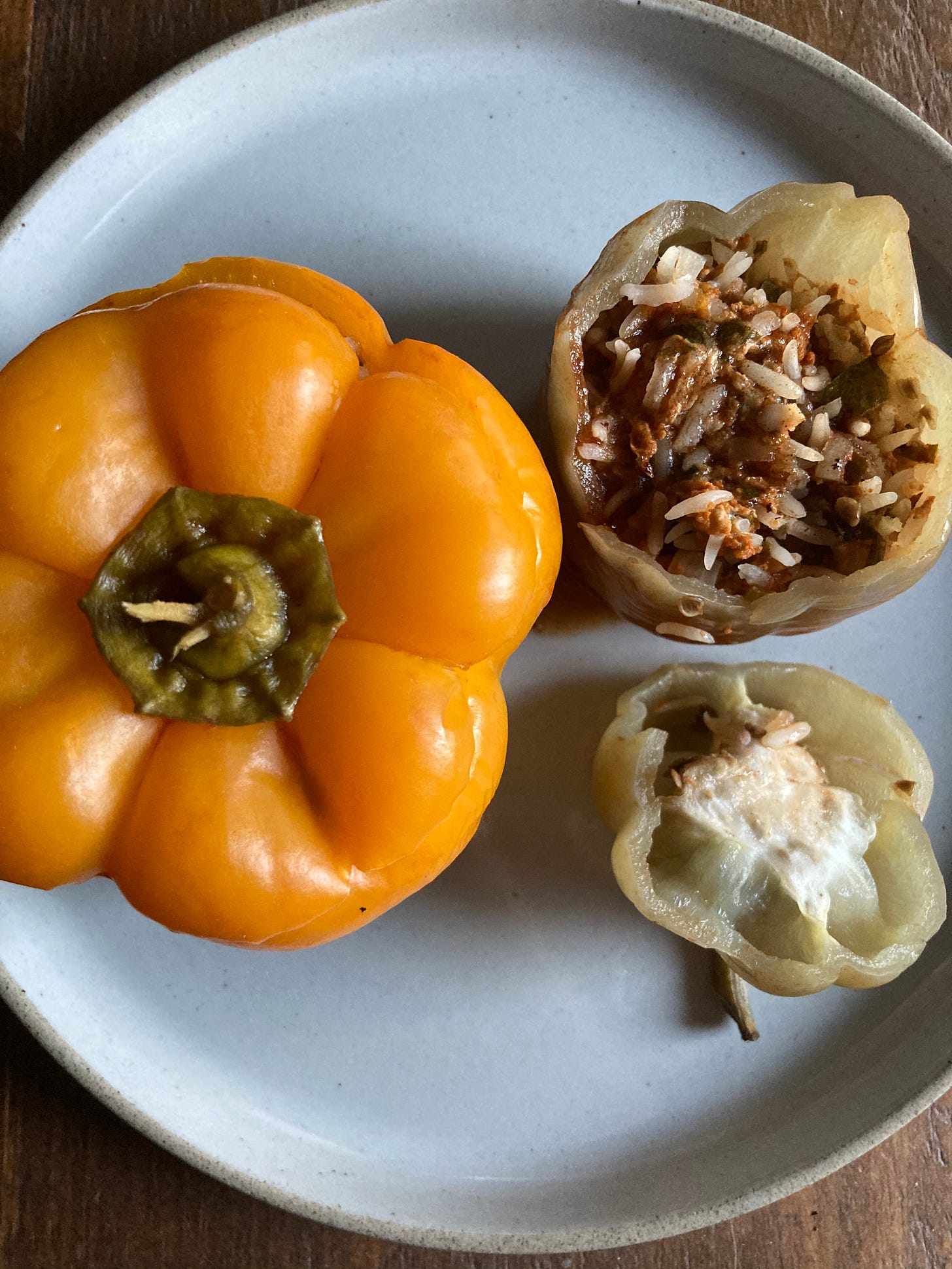 I followed this recipe pretty much as-is, except I refused to stuff the bell peppers with any more bell pepper, so I left that part out. Didn't miss it. (I also didn't have any yogurt at the time to serve it with, but it is recommended by this and other recipe writers.)
Other takes:
• Israeli stuffed peppers courtesy of The Nosher, which are sweeter, saucier and feature pine nuts in the stuffing.
• Punjabi-style stuffed peppers (bharwan shimla mirch) from Dassana's Veg Recipes, a vegetarian version where a spiced potato mixture replaces the minced meat & rice.
• Korean stuffed peppers (gochu twigim) from Futuredish, featuring an elongated pepper like Anaheim, and a minced pork / tofu / vegetable filling. Unlike the versions shared above, these are battered and deep fried.
---
Do you have a version of the stuffed pepper from your culture to share? I'd love to see it. By all means, I invite a thorough schooling.
Until next week,
Tracy