Saffron salmon, dill rice, and showcasing an ingredient.
Rice adapted from: sheveed polo, a Persian dill rice dish.
A few years ago, my partner gave me an exquisite copper kettle from Japan as a Christmas gift. It was glossy and resplendent, with a near-reflective polish that I did not want to tarnish with the patina of quotidian use. It felt at odds on my sauce-stained stove; it paired poorly with my cracked mugs. I revered it so much, I've never once used it. This instinct of preservation, as you might suspect, is a ruinous pattern in my life.
The culinary equivalent of the kettle was my very humble stash of saffron, which came in a dime baggie tucked in a glass spice jar 20 times its size, to disguise the laughable amount of spice within it. I had bought it for a paella I made for New Years two years ago and have held onto it since like Gollum to his precious. Saffron, for a weekday dinner? In this economy?
Commonly referred to as "red gold," saffron is the most expensive spice in the world—retailing at around $10,000 per kilogram. It's the dried crimson stigma of the Crocus sativus, also known as the saffron crocus flower, a relative of the iris. Crocus season lasts no longer than a week every year; each flower produces precisely three saffron threads. It's expensive because it's extremely labor-intensive. Harvest starts before sunrise so that the sun doesn't wilt the blossoms. Once the blossoms are harvested, the delicate stigmas have to be extracted by hand and dried within a few hours, to preserve the rich, alluring aroma before it fades.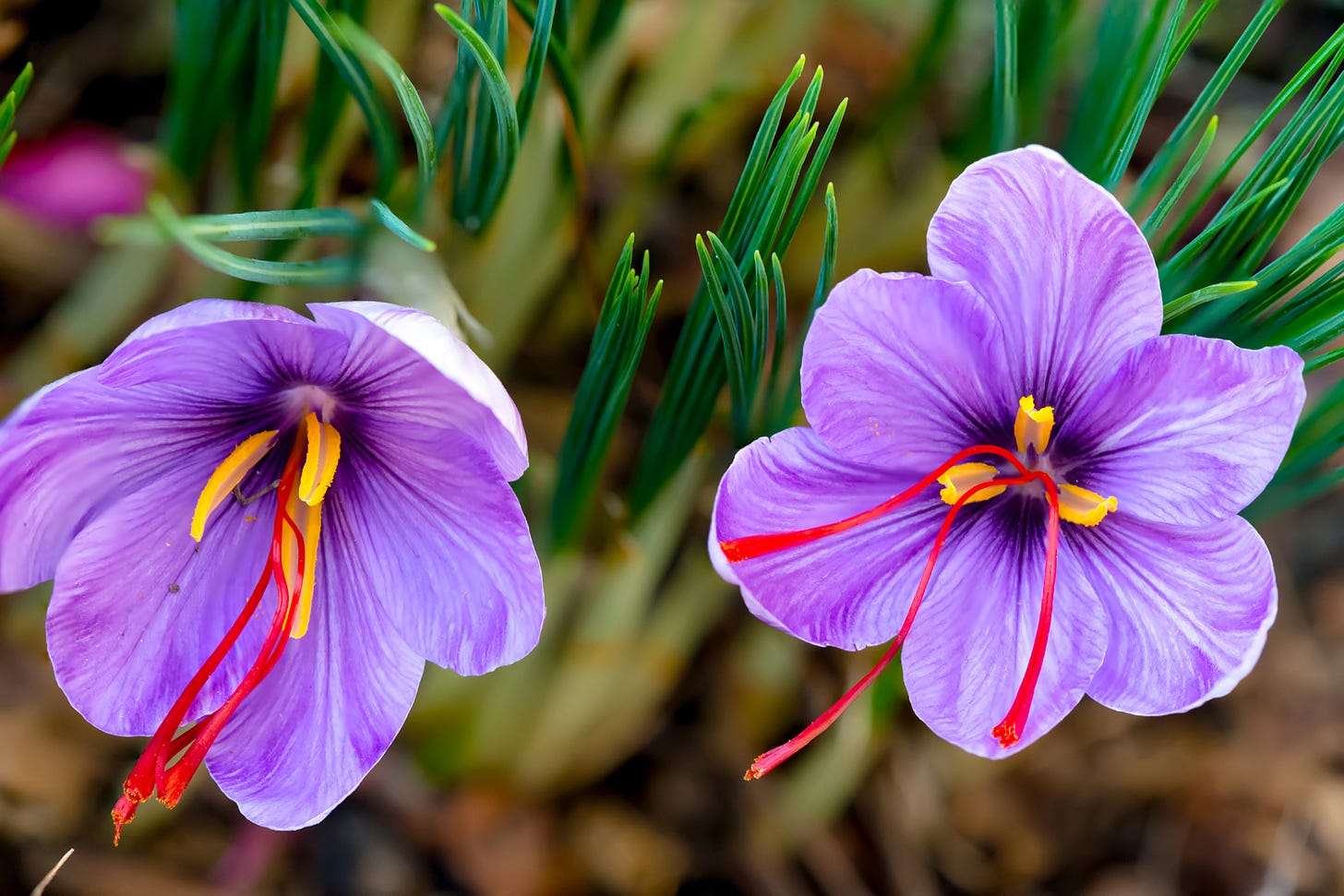 Humans have been harvesting saffron since the Bronze Age; Cleopatra famously scented her baths with it before her sexual encounters. Today, Iran currently accounts for 90% of the world's saffron production, and it's an essential spice in Persian cuisine. In this week's recipe, from cookbook writer Yasmin Fahr, saffron is given the spotlight in a lemony marinade for salmon. The bright, aromatic fish is then paired with another Persian classic: sheveed polo (dill rice). I saw the picture of the recipe and knew my saffron's time had come.
You never need a lot of saffron for a recipe, but this one passes on a traditional Persian technique to make even the smallest quantities go a long way: you grind the threads in a mortar and pestle, then bloom the saffron powder in a little bit of warm water. The resulting liquid had such a compelling scent—a hay-like warmth with an elegant floral-suede note—I contemplated bottling it as perfume instead.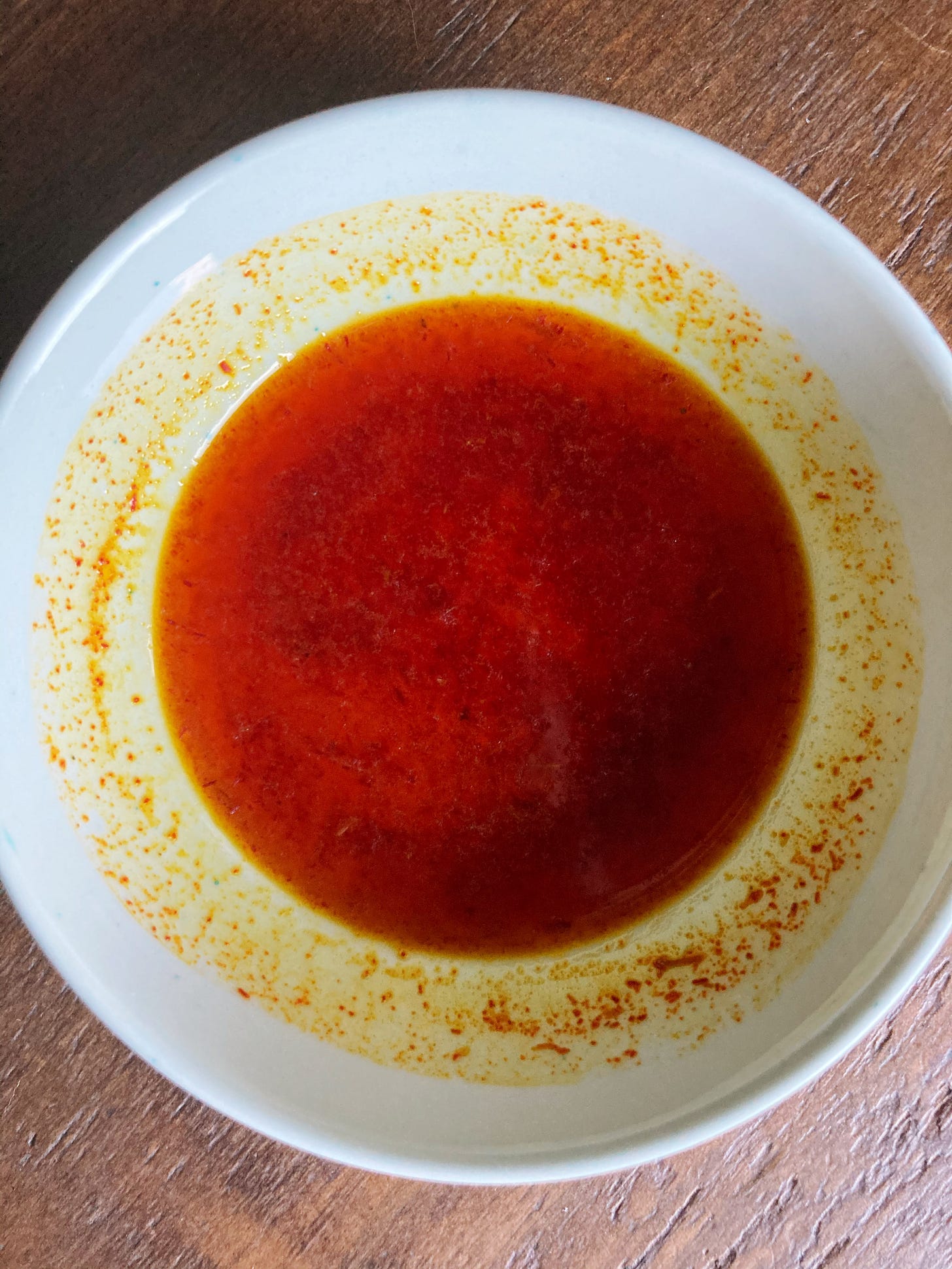 These days I am trying to unwire these near-feral instincts of mine: a tendency, driven by a lifelong aversion to scarcity, to hoard beauty like a non-renewable resource. But like purple bell peppers, like exotic spices, like my beloved perfumes, beauty expires: the best way we can honor it is to put it to use. To pick it as the sun rises. To dry it before its scent dulls. To serve it, fragrant and golden, to the ones we love.

Recipe notes:
Lemon-Saffron Salmon With Dill Rice - Yasmin Fahr for Bon Appetit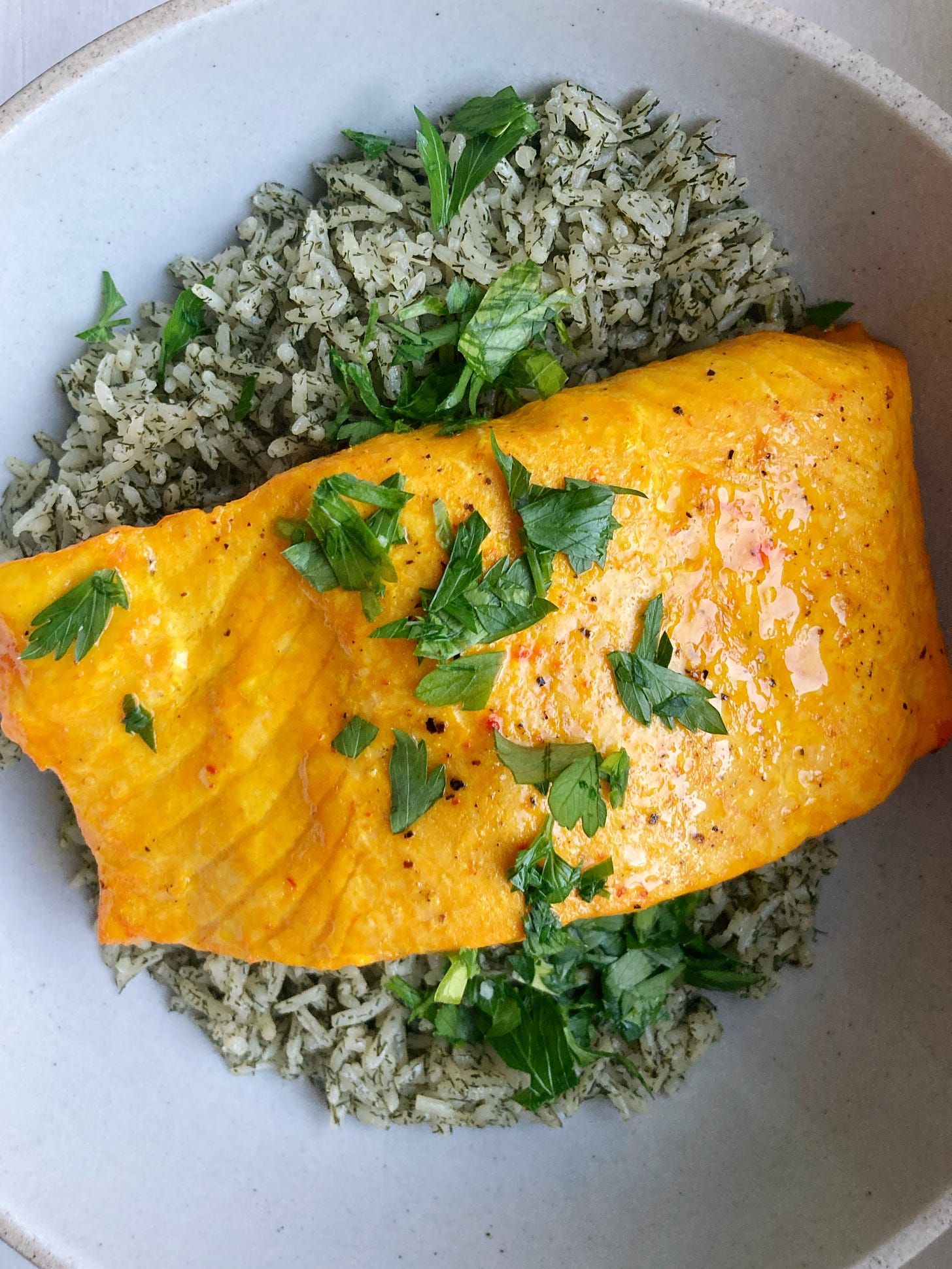 Before you make this recipe, you gotta make sure you love saffron. Because if you are evenly remotely off-put by its perfume, you will be disturbed by the final product.
For the sheveed polo, I used dried dill (because the grocery store was out of dill - who is buying this much dill?) which I later found out does not taste the same, even after being hydrated in a pot of rice. It tasted like bougie pickle popcorn seasoning, and I missed the brightness of fresh dill in every bite. So do not make that mistake. Wait for the restock if you must. (If you ever buy dill for a gravlax or something and wonder what you should do with the remaining 99.95% of it, dill rice is also an excellent way to use it up.)
Also, this recipe employs another interesting cooking technique: after parboiling the basmati rice, steam on low and cover with a kitchen towel wrapped around the lid of the pot to absorb moisture. The result is incredibly fluffy rice with perfect, I mean PERFECT (check the picture) grain separation. Will apply this technique to future biryanis.

More ways to use saffron:
• Tahchin morgh (baked saffron rice with chicken), via Persian Mama.
• Khoresh bademjan (eggplant stew with beef), via 196 Flavors.
• Another version of this week's recipe, also from Persian Mama: Sabzi polo ba mahi (herbed rice with fish).
---
Is there an ingredient in your cupboard you've been meaning to use forever? Do it! I will personally send you recommendations if that's what it takes. Otherwise, your girl is on vacation and about to head to a place with no wifi. See you in two weeks. 🤸🏻‍♀️