Picadillo, and a dish as evidence of history.
Adapted from: a comforting Cuban recipe.
I don't know about you, but my food habits have changed drastically since the pandemic hit. Previously an avid planner and grocery store enthusiast with a tinge of control issues regarding what I ate and when, I now leave the bulk of my food decisions up to a few local suppliers. They send me boxes of mystery produce and a variety of meats, and I get to go through the creative exercise of putting these ingredients to good use.
This week's picadillo recipe was what I decided to make with a frozen puck of ground beef. It's a Cuban dish that I've had before, but never took the time to learn about until now. With food, it's particularly easy to fall into the trap of open-mindedness as moral virtue: to pat ourselves on the back for the mere act of eating outside of our comfort zone. What I'm realizing, even just in writing the first few issues of this newsletter, is that there is so much to be learned from what's in the food itself.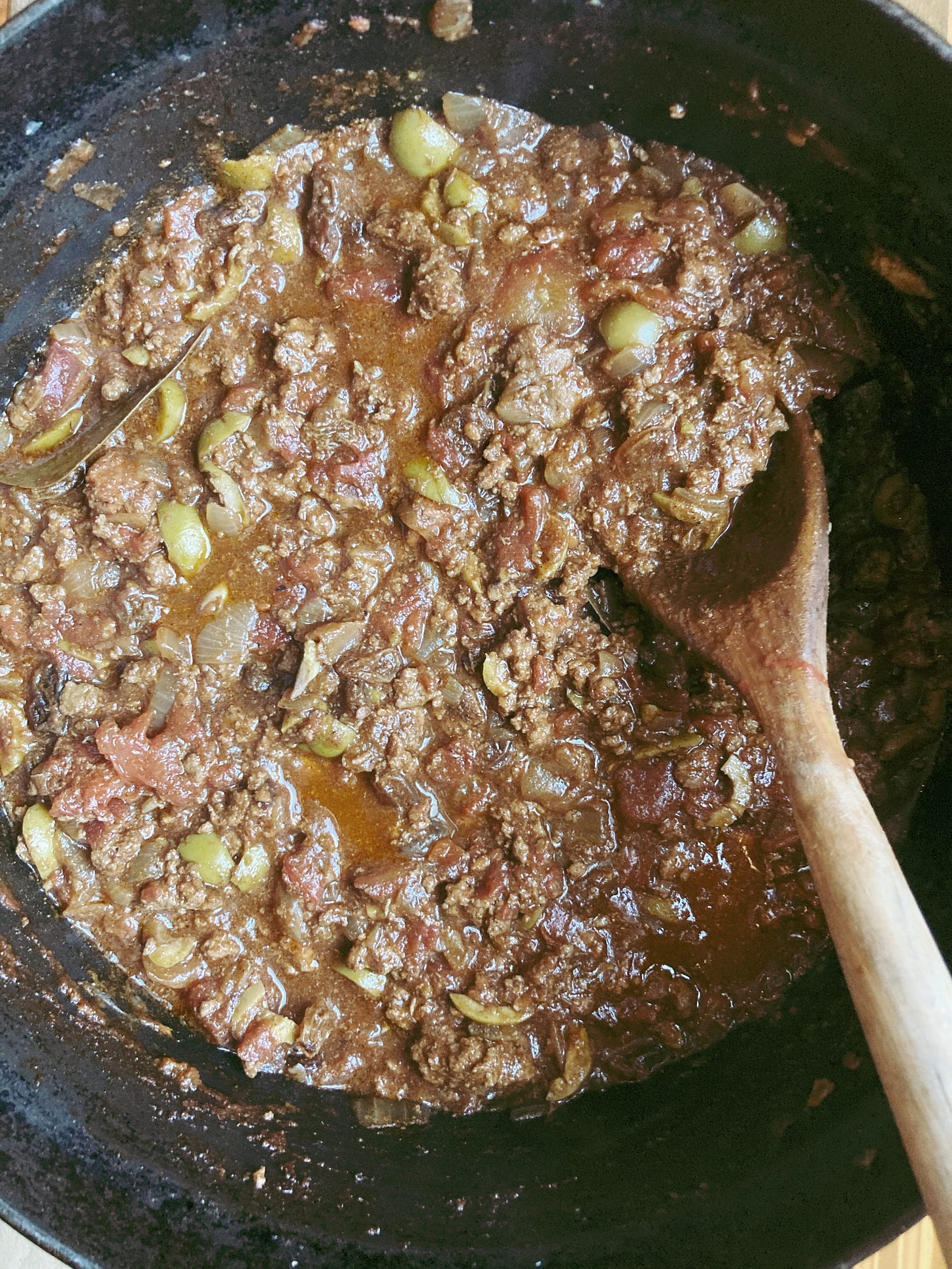 So, picadillo. The name is a diminutive form of the Spanish word picar (to mince, to chop), which gives away the most crucial element of the dish: ground meat, which is simmered in a tomato base, with raisins and olives and warm spices. In the recipe I used from the NYT, it's lauded as "one of the great dishes of the Cuban diaspora." But after reading about it further, I'd be inclined to call it "one of the most visible through-lines of Spanish colonial influence."
You can see it in the ingredients of the dish. Tomatoes, olives, warm spices—these can all be traced back to Spain. You can see it in where the dish is consumed: in most former Spanish colonies, from the Dominican Republic to the Philippines, you'll encounter a version of picadillo. (I'll link to a Filipino recipe below.) Each regional version has its own distinct flavour, of course, informed by local tastes: in Mexico, ingredients like lime, tomatillos and guajillo peppers are sometimes added; in Puerto Rico, picadillo is used to stuff empanadas and papas rellenas (fried potato croquettes). Nevertheless, the connective colonial presence remains. Sometimes the dishes that we think belong to a place aren't from that place at all.
But picadillo, Cubans have claimed as their own. It is the ultimate comfort food, a recipe rich with sentimental value and nostalgia. A scan of Cuban food blogs suggests that every household has their own version of it. As a tradition that survived the restrictions and food austerity of the Cuban Revolution, it's got all of the qualities of an enduring recipe: simple to make, cost-effective, and endlessly riffable. Oh, and deep-in-the-soul delicious. I've mentally dog-eared it for this winter, when I'll need all the simple comforts I can get.

Recipe notes:
Picadillo — Sam Sifton for the New York Times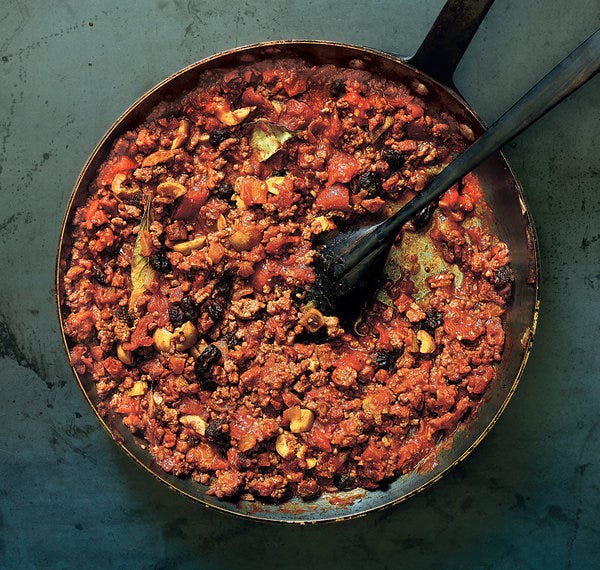 The elements of this recipe that make my brain tingle—the use of sweet, aromatic spices like clove, nutmeg and cinnamon to balance the savouriness of the meat and olives—are part of what makes it untraditional. If I were to be generous in my interpretation of Sam Sifton's intentions, I would say that he was trying to double down on the major influences on Cuban cuisine—notably Spanish and African—with these spices and the Spanish chorizo. But that's a stretch!
Nevertheless, if your palate enjoys complex, spice-forward flavours, I'd keep these inauthentic additions in the mix. The red wine vinegar, I would omit. It feels unnecessary with the acidity of the tomatoes, and renders the dish slightly too tart. And speaking of—do not deprive yourself of the perverse joy of squishing up a can of whole tomatoes with your hands. These days we get our small pleasures where we can.
I served the picadillo over rice, with fried plantains on the side. Delectable.
Traditional takes:
• A simplified version from Nitza Villapol—a famous Cuban chef and cookbook writer, who hosted her own cooking show for over 40 years (!)—is cited as the starting point for many picadillo recipes. Here is that recipe, from 1956. (Link in Spanish.)
• Other versions of Cuban picadillo feature the addition of extra briny capers and diced potatoes. (Starch on starch—I'm a fan.) Here is a recipe from Maria del Mar Cuadra / Serious Eats.
• Here is a Filipino version of picadillo, which retains the essential elements and adds carrots, peas and fish sauce.
🎶 Bonus! Picadillo also has a theme song.
---
As always, I look forward to your thoughts. See you next week!