Mapo tofu, and tasting your way home.
Adapted from the quintessential Sichuan dish.
What's a remedy for homesickness when "home" is a concept, not a place? What dimensions of it can you cling to? For me, the way home has always been through senses—a slow discovery of ingredients and flavours that strike the flint of recognition in me, like feeling around in the dark for the shape of the switch.
Immigrant parents are notoriously bad at writing down their recipes, but mine were especially indifferent to the powerful nostalgia their cooking would later wield. When I moved away from home, the only recipe I had—stored in rote memory, of course—was for my dad's dumplings. This came in handy about once a year, because central to his approach is the regimented tedium of making the wrappers yourself. Otherwise, I had to outsource to Chinatown.
Mapo tofu was one of the dishes I always looked for. It wasn't hard to find; most Chinese restaurants, even the super generalist ones, offered some version of it. Although I would often find it wedged between strange dishes I knew to be crafted for a different kind of patron (past the egg foo young, right before General Tso's chicken), mapo tofu represented a degree of familiarity I didn't yet know how to recreate for myself.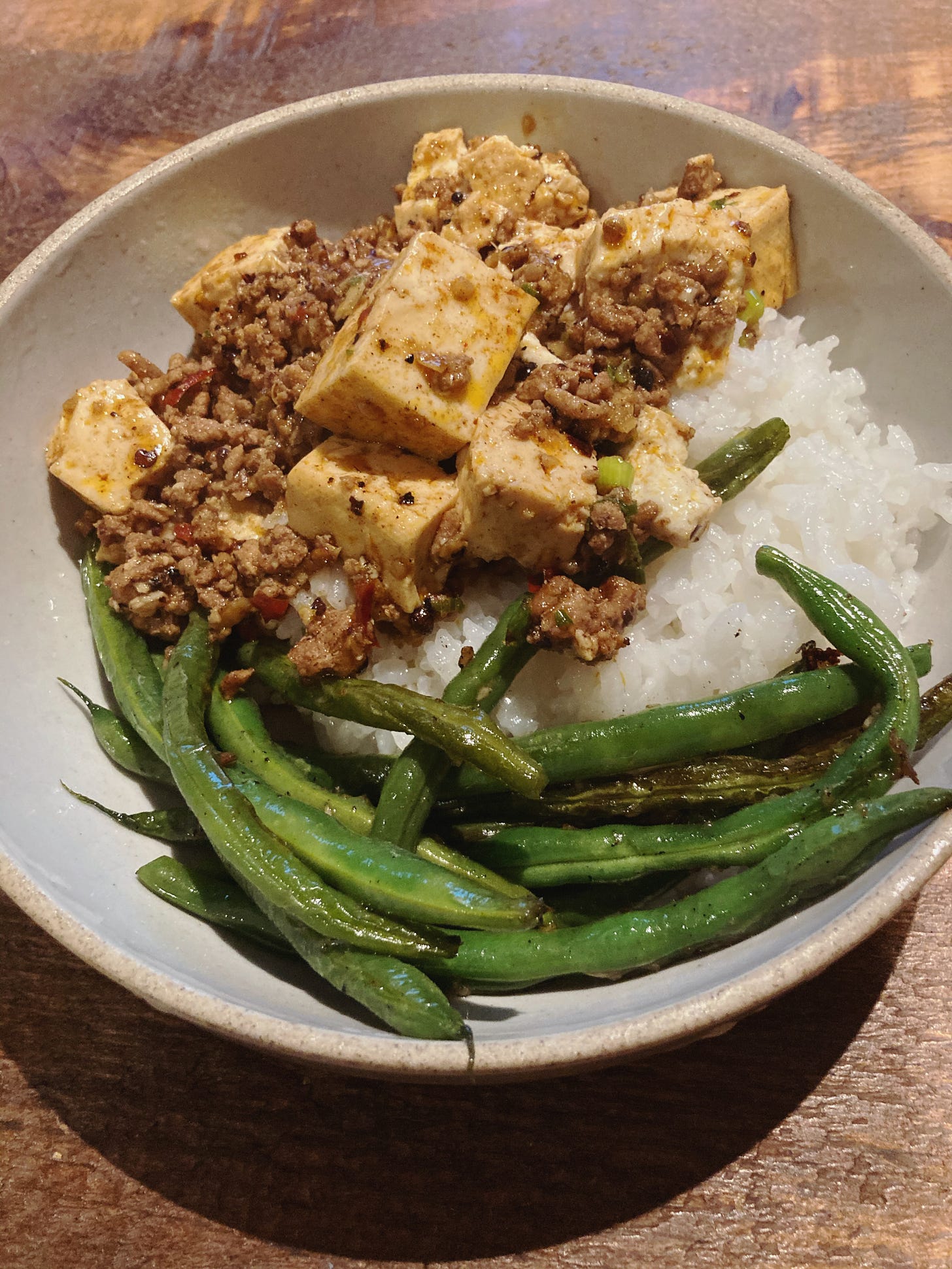 "Mapo" loosely translates to "pock-marked grandmother." This is her tofu. According to Chinese folklore, the recipe can be traced back to the 1800s, to a small restaurant in Chengdu run by an elderly woman whose face was riddled with pockmarks. It seems to me like an unnecessarily cruel way to christen a dish, but to its merit, the name stuck; I have never seen it distorted or translated, even on the most Anglicized of menus.
The non-negotiables of this dish: silken tofu, just enough chilis to make your gastrointestinal system fret, Sichuan peppercorns, ground meat, and a healthy dollop of doubanjiang (fermented chili broad bean paste). At the heart of the dish is this notion of "málà"—numbing and spicy, thanks to the peppercorns and chilis—a prominent flavour profile in Sichuan cuisine.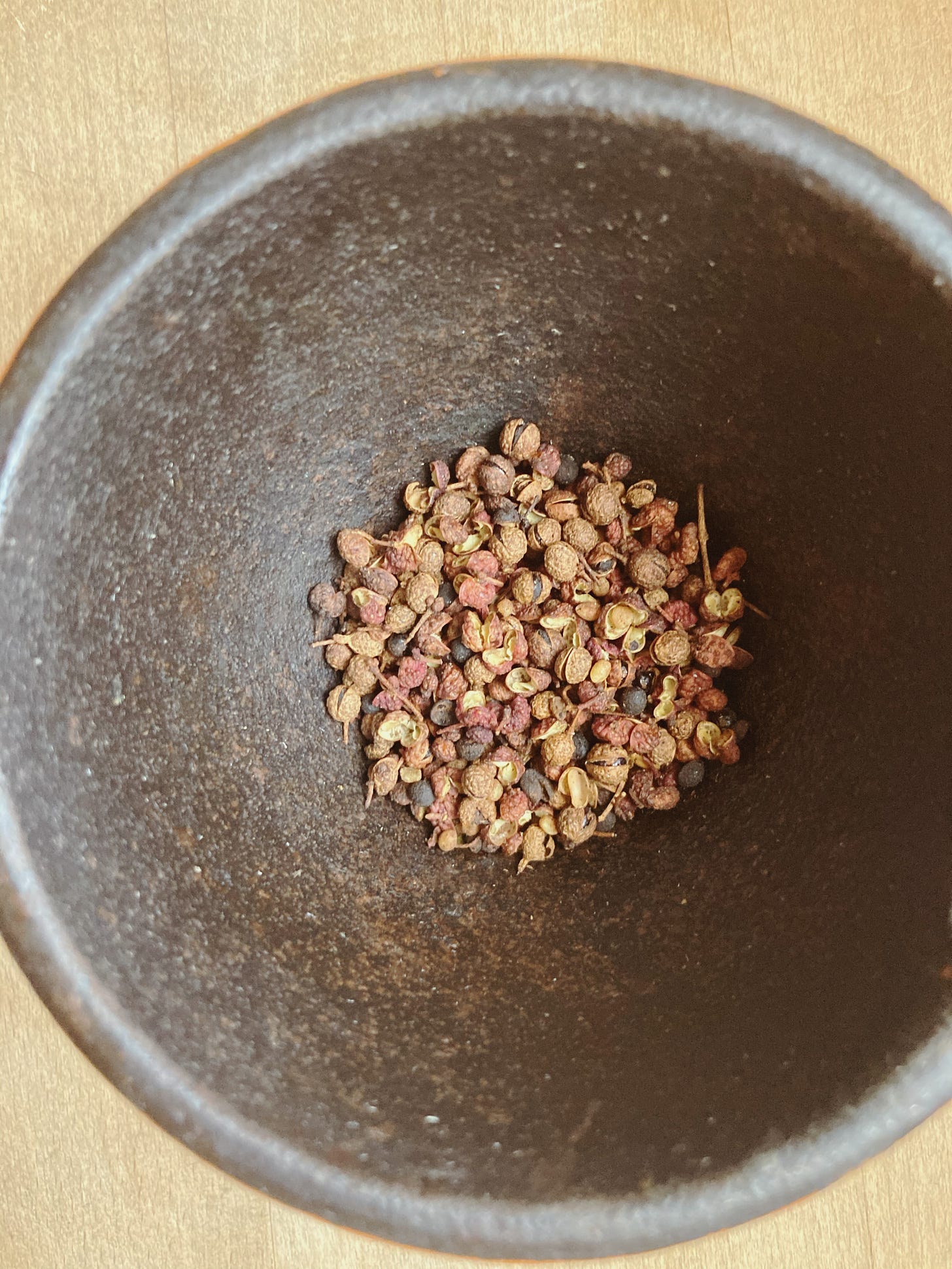 These days, mapo tofu has become my antidote to homesickness and physical sickness alike. When spooned over a hot bowl of rice, it's as healing as the proverbial chicken soup. These powers are not reserved for those who grew up eating it; as Anthony Bourdain said on Parts Unknown, "And if you ever have a hangover—and you will, my friend, you will—this will scare the evil right out."
If you haven't, I urge you to try it. Your tongue might not find comfort, but your soul will.

Recipe notes: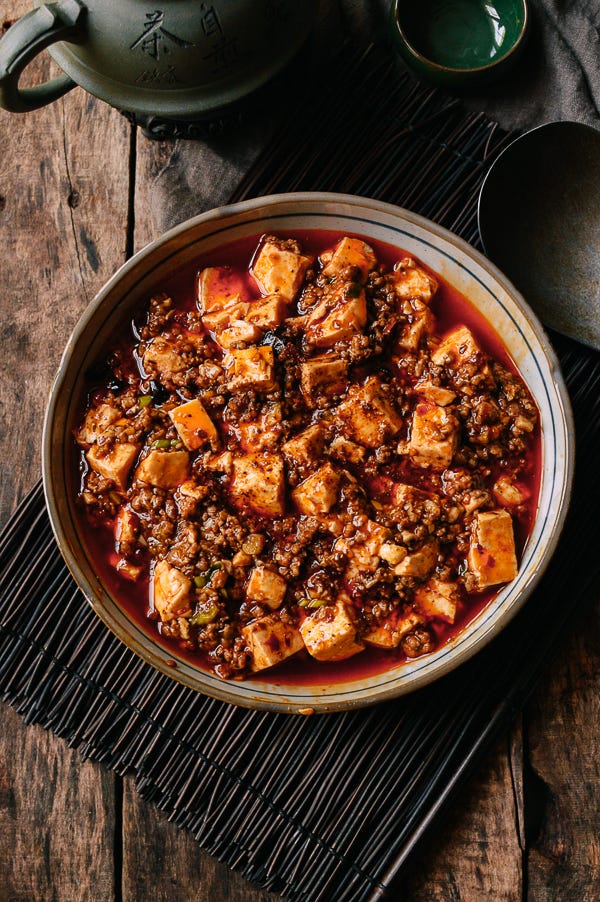 Mapo Tofu, from The Woks of Life
If you have any chili crisp oil on hand, save yourself some time by using that instead of toasting the dried chilis in step 1. I used Lao Gan Ma. To the disapproval of my ancestors, I used some medium-firm tofu because that was all I could find. (It was fine, but you want that soft tofu texture.)
And if this is your first time cooking with Sichuan peppercorns, know that it will cause a numbing sensation on the tongue. This can be unexpected, but is not bothersome for long.
Other takes:
• Arguably as traditional as you can get, a recipe by Fuchsia Dunlop (a premier English-speaking expert of Sichuan cuisine, whose cookbooks I reference a LOT when I'm trying to impress my parents).
• A vegetarian version from Appetite for China, in which ground meat is replaced by shiitakes for depth of flavour.
• A take on a take on a take, a recipe for Mapo Ragù (featuring kale? I am both 👀 and 😒) by Sam Sifton of the NYT, adapted from Momofuku Ssam Bar.
---
What recipes do you make when you're homesick?
— T