Farro soup, and making the most of what we have.
Adapted from: minestra di farro, an ancient Tuscan tradition.
In two days, we'll have been in some form of lockdown for seven months. Truth be told, I remember very little of it. I can say with some certainty that things happened and emotions were felt, but all of the details feel soft and untrustworthy, like a dream you attempt to recall mid-day. When I first sat down to write this letter, I wrote a sentence that felt strangely familiar—after going through the archives, I realized I'd written the same sentence, word for word, in August. If that's not a sign of our times, I don't know what is.
But despite feeling paralyzed and stagnant, I hold on to the hope that in some imperceptible way, I'm changing; that tedium and repetition, too, can be our teacher. One small evidence of this change is in the way I cook, and relate to food. These days, joy comes from a different place; I am no longer trying to satisfy my appetite's every whim, but deriving a sense of satisfaction from using up what's in front of me. Being efficient. Purposeful. You've seen some of these ideas reveal themselves, to myself and to you, week by week. I am optimistic that they are here to stay.
During this time I have thought a lot about the notion of la cucina povera, or the cooking of the poor. It's an Italian concept and cooking tradition rooted in making the most of what little you have—using simple techniques and modest ingredients to create delicious, comforting meals that are more than the sum of their parts. Here's some historical context from Pamela Sheldon Johns' essential cookbook on the matter, Cucina Povera: Tuscan Peasant Cooking—
Italy, a country now recognized for its excellent food, has a disturbing history of malnutrition and hunger, mainly sustained by the now-abolished class and sharecropping system known as mezzadria. While the land-owners consumed a greater variety of food and nourishing proteins, the working class subsisted on what they could glean from their meager rations and gather from the land.

From these hard times came recipes that have endured and have even become exalted. [La cucina povera] is a cuisine of ingenious creativity in using next to nothing while maintaining a reverence for everything.
Many of the Italian recipes we know and love are born from this tradition. Pasta e fagioli, ribollita, panzanella—these are all classic examples of la cucina povera. But if there's a dish that truly embodies this philosophy, it's minestrone—a hearty, comforting, wholesome dish you can make with pantry staples and whatever vegetables you have on hand. There are countless versions of it out there, of course; that's the nature of this kind of cooking. This week's recipe is made with farro, a variation of minestra prepared throughout Tuscany and Umbria.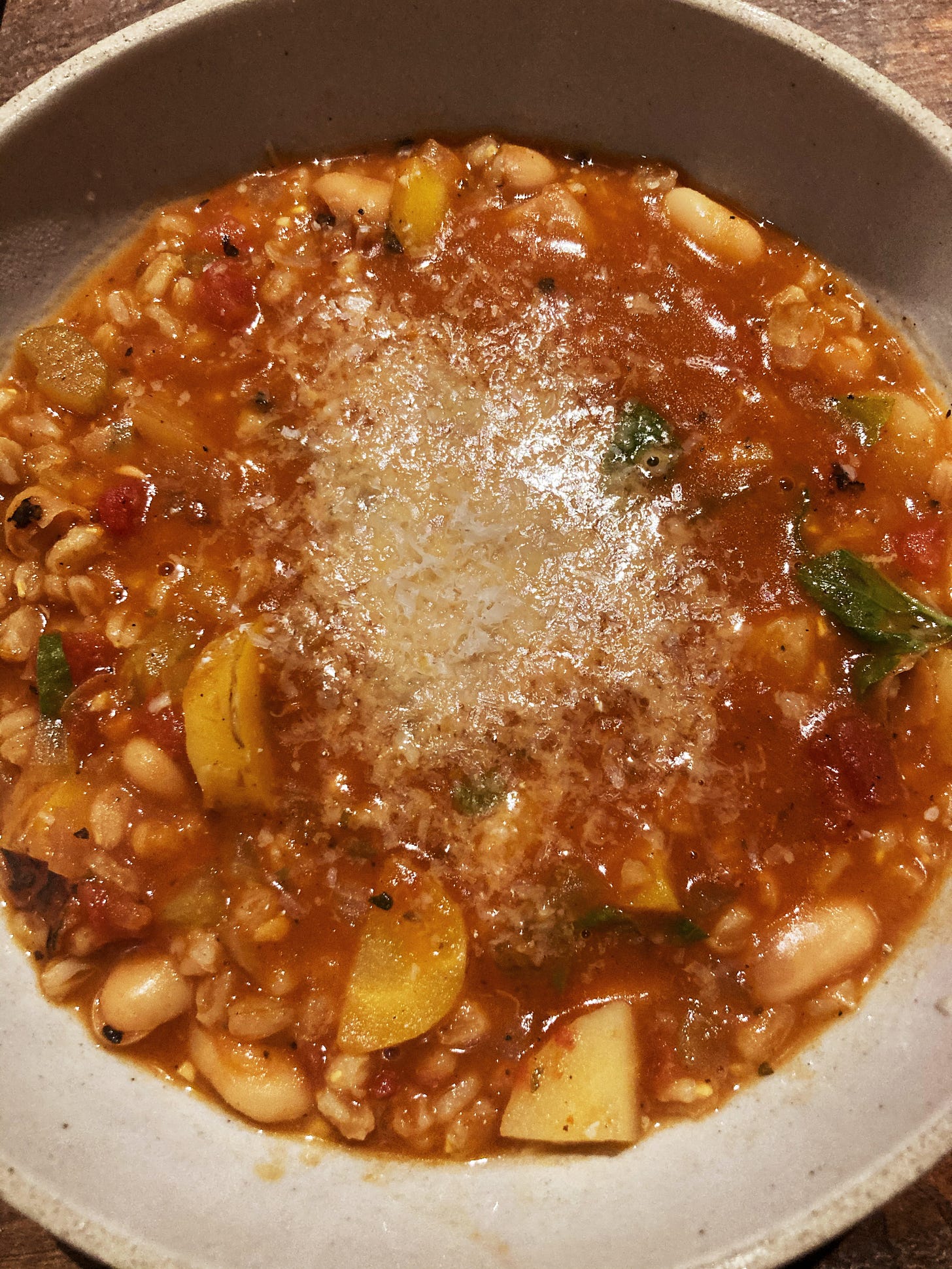 Our pandemic cooking has a lot to learn from peasant cooking, like how to create within constraints, and how to make the most of our limited access to ingredients. As Toronto heads into another 'modified' lockdown and lord knows what next, I'll be putting these principles into practice whenever I can. It doesn't feel like a obstacle as much as an opportunity: to waste less, to eat seasonally, to become a better cook in the process. A small blessing in disguise. One day, I might even recognize it as progress.

Recipe notes:
Tuscan Farro Soup - Mark Bittman for NYT Cooking (image theirs)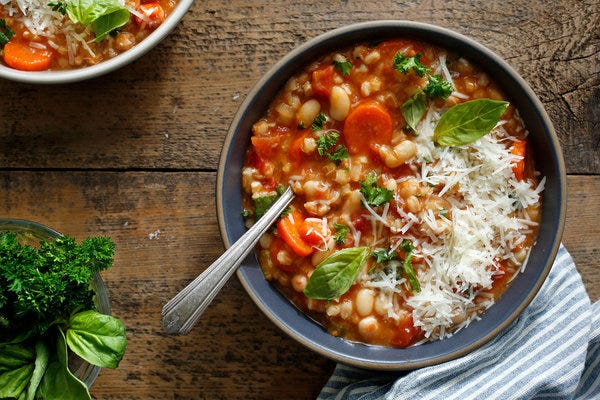 As the picture suggests, this soup is really more of a stew. I had canned beans so I used those, but I suspect that dried beans would hold up better when reheated. And if you have a Parmesan rind hanging around, throw it in there! It makes the soup extra hearty and savory. Farro, admittedly, is not the most common grain found in a pantry, but you can easily substitute it with barley.
Traditional takes on minestra di farro:
In many versions of this minestrone, the soup is blended before the farro is added. Mark Bittman's does not. Some recipes include a cured meat. Others feature different vegetables. I'm sure they are all equally delicious, but here are a few variants to try:
• Farro soup from Lucca, Italy (via Almost Italian). (Vegetarian.)
• Zuppa di Farro alla Lucchese, another version via Food52 that includes salty pancetta.
• This recipe, from Italian food blog Ricette della nonna, throws potatoes and cabbage into the mix.
---
What is your go-to pandemic recipe? Throw it my way, please.
Stay safe and be well,
Tracy