Eggplant adobo, and the aspiration towards simplicity.
Adapted from: adobong talong, a vegetarian version of traditional Filipino adobo.
For most of my life, I thought that great cooking meant complicated cooking: extensive ingredient lists, finicky techniques, surgical knife-work. It made sense to my self-flagellating brain that in order to extract the best of what food had to offer, the cook had to suffer in the process. It's the same misguided instinct that had driven me to excessive verbosity in my university papers, as though the impenetrability of an academic text is indicative of its intellectual merit. They are, ultimately, two strategies in an immigrant's assimilation playbook; an effort to signal a certain standard of taste, a certain level of education. Some layers we carry with us for far too long before we realize we no longer need their protection.
"The definition of genius is taking the complex and making it simple," Einstein famously said, a quote so simple it might just be genius. It's an idea I go back to whenever I feel the itch to overcomplicate my life, which I am wont to do, because I am my parents' daughter and nothing is ever good enough. The goal is not to aim for genius (unlike Shakespeare, I am not writing a masterpiece in quarantine) but rather, to embrace the value of simplicity. It's why I think Alison Roman's recipes, despite all of her [gestures wordlessly], are so excessively popular—they rarely exceed 10 ingredients, and make the most of every single one.
Don't worry, this isn't a set up for an Alison Roman recipe. This week I made adobo—a Filipino cooking method and eponymous dish that I've had once before at a restaurant, but never cooked for myself. I'd always assumed, from how good it was, that it would be a drawn out process. But I love to be proven wrong, because it's as simple and as flavorful as it gets.
Adobo is considered the national dish of the Philippines, but its origins—a reflection of its history—is of mixed cultural heritage. This quote puts it all in perspective:
As the local saying goes, Philippine food was prepared by Malay settlers, spiced by the Chinese, stewed by the Spanish and hamburgerized by the Americans. Adobo is all but the last.
The adobo method, developed as a way to preserve meat in a salty and acidic environment undesirable to bacteria, pre-dates colonization and refrigeration. Although the name that stuck was given to it by Spanish colonizers (from adobar, to marinate), it differs from other versions of adobo you'd find in Mexico, Puerto Rico or Spain. In the Filipino version, a mixture of vinegar, soy sauce, garlic, bay leaf and black pepper is used to tenderize protein before it is browned and stewed in that same liquid. Naturally, there are countless regional variants, but these are the basic components. Chicken and pork are popular versions of the dish—as is eggplant.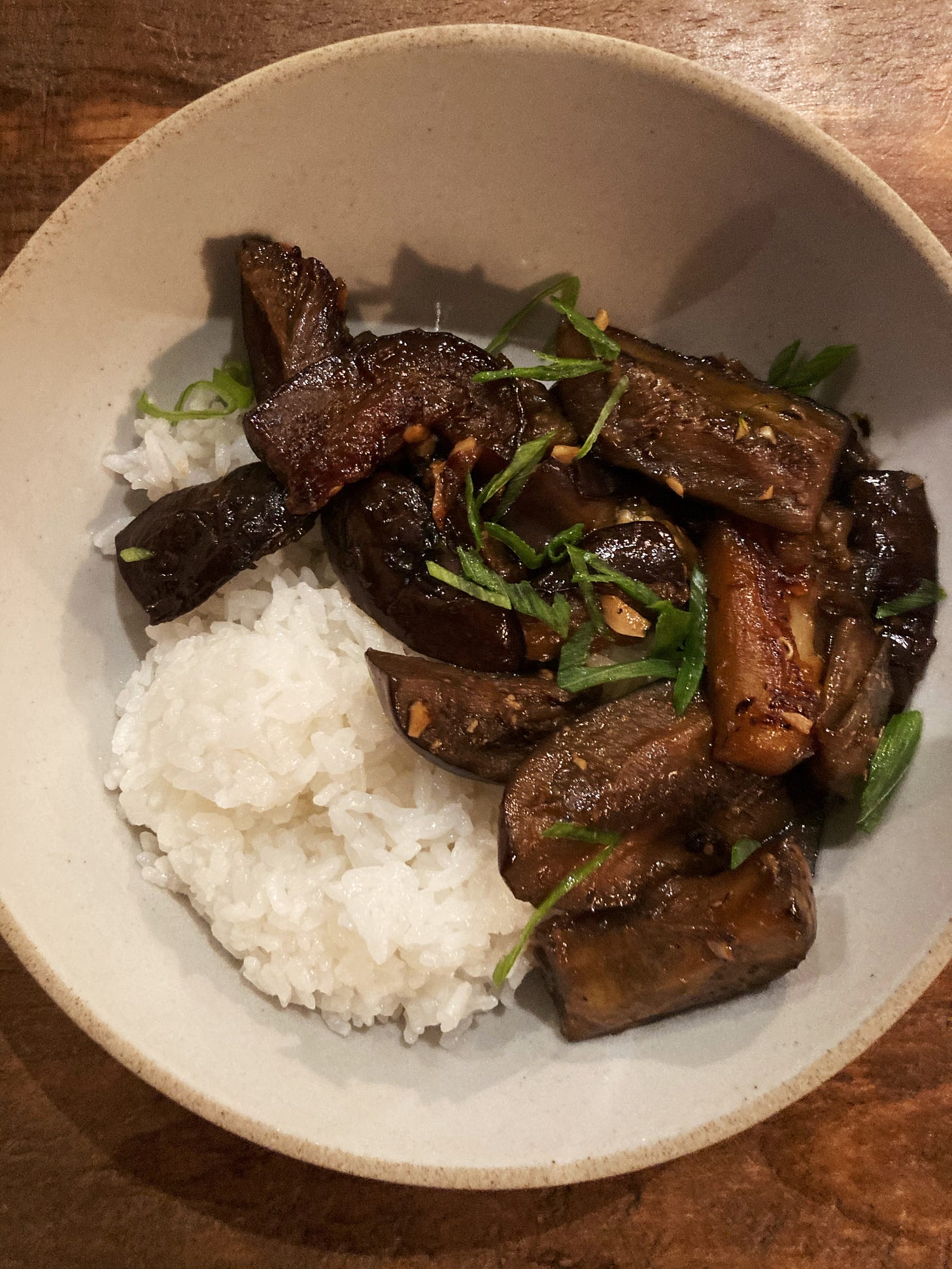 I love this because every ingredient is pulling its weight and then some. It's a low-effort, pantry-friendly dish that yields infinite reward, with a simplicity that invites endless tinkering to find a version that satiates you the most.
The eggplant is incredibly flavourful and tangy, so much so that merely thinking about it activates my saliva glands. It falls apart in your mouth, rich from having absorbed most of the oil it was browned in. The dish is perfect served on a plain bed of steamed white rice and appeals to me the same way an uneventful weekend does—admittedly not exceptional, but pleasantly restorative, and often exactly what I want.
Which is to say, it might be a great companion for riding out this pandemic.
Recipe notes:
Eggplant Adobo - Liza A. of Salu Salo (Image from the blog.)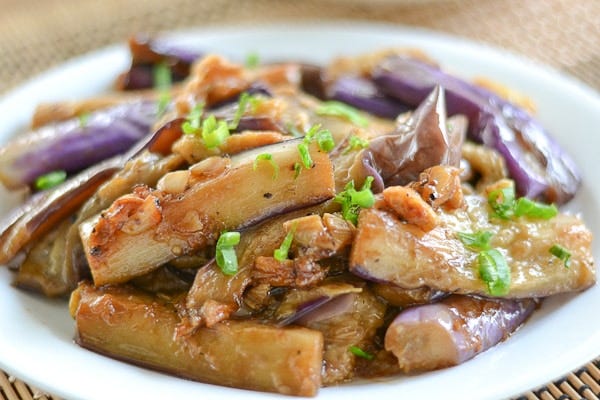 From everything I'd read about adobo, bay leaves are considered essential (the blog post even called them out). For reasons unknown, they were omitted from the recipe. I love a savory bay leaf base note, so I threw in two of them. No regrets.
In other versions of this dish, the eggplant is marinaded in the soy-vinegar sauce beforehand, but Liza didn't deem it necessary and neither do I. It's a total disrespect to the name, mind you, but the results tasted great—the cooked-down eggplant ends up absorbing a lot of the sauce anyway.
Sugar, although not an essential element of adobo, is key here.

Other takes on adobo:
• Adobo-style eggplant (with the addition of ground pork for added protein and richness, and garlic chips for texture), by Sohla El-Waylly for Bon Appetit.
• Chicken adobo and rice (in which chicken is marinated, panfried, then stewed until tender), via Panlasang Pinoy.
• Pork belly adobo, via Foxy Folksy.
---
Are there any deceptively simple recipes you swear by? Send them my way! (I am already a vocal fanatic of Marcella Hazan's tomato sauce.)
Until next week,
Tracy