Cold rice noodles, and why naming matters.
Adapted from: Bún Thịt Nướng, a beloved Vietnamese dish.
When I was seven years old, I moved from Chēnzhōu, Hunan to Starkville, Mississippi. During the car ride to school on my first day, my parents asked me to choose an English name. It's what all of their friends' kids did, they explained, to avoid bullying. "So pick one," my mom said. "Do you want to be Tracy or Linda?" If these names seem arbitrary to you, it's because they were; both the names of white women my parents worked with, for whom they felt no particular affection. I chose Linda, because I could pronounce the syllables. My mom considered it, then shook her head. "Actually, we know too many Lindas."
For more than two decades now, I have moved through this world as Tracy in public and Tian (湉) on paper, a name reserved for my parents and the occasional customs officer. My true identity rests somewhere in the cultural chasm in-between. I often wonder if the assimilative Tracy was a self-fulfilling prophecy; whether I would have retained more of my Chinese-ness (a messy and sprawling idea including but not limited to the language, cultural values and practices, and a better relationship with my very Chinese parents) if I had stuck with being 湉. I didn't know it then, but I was relinquishing citizenship to half of myself—slowly writing over my own context.
All that to say, I've never seen names as simply descriptive. A name is referential; it holds meaning and history. It determines how others perceive the subject. And in food, it tailors the recipe to a certain audience. When food bloggers and recipe writers choose certain names for their recipes, it isn't just for better SEO or for clarity; just as telling are the parts they've left out.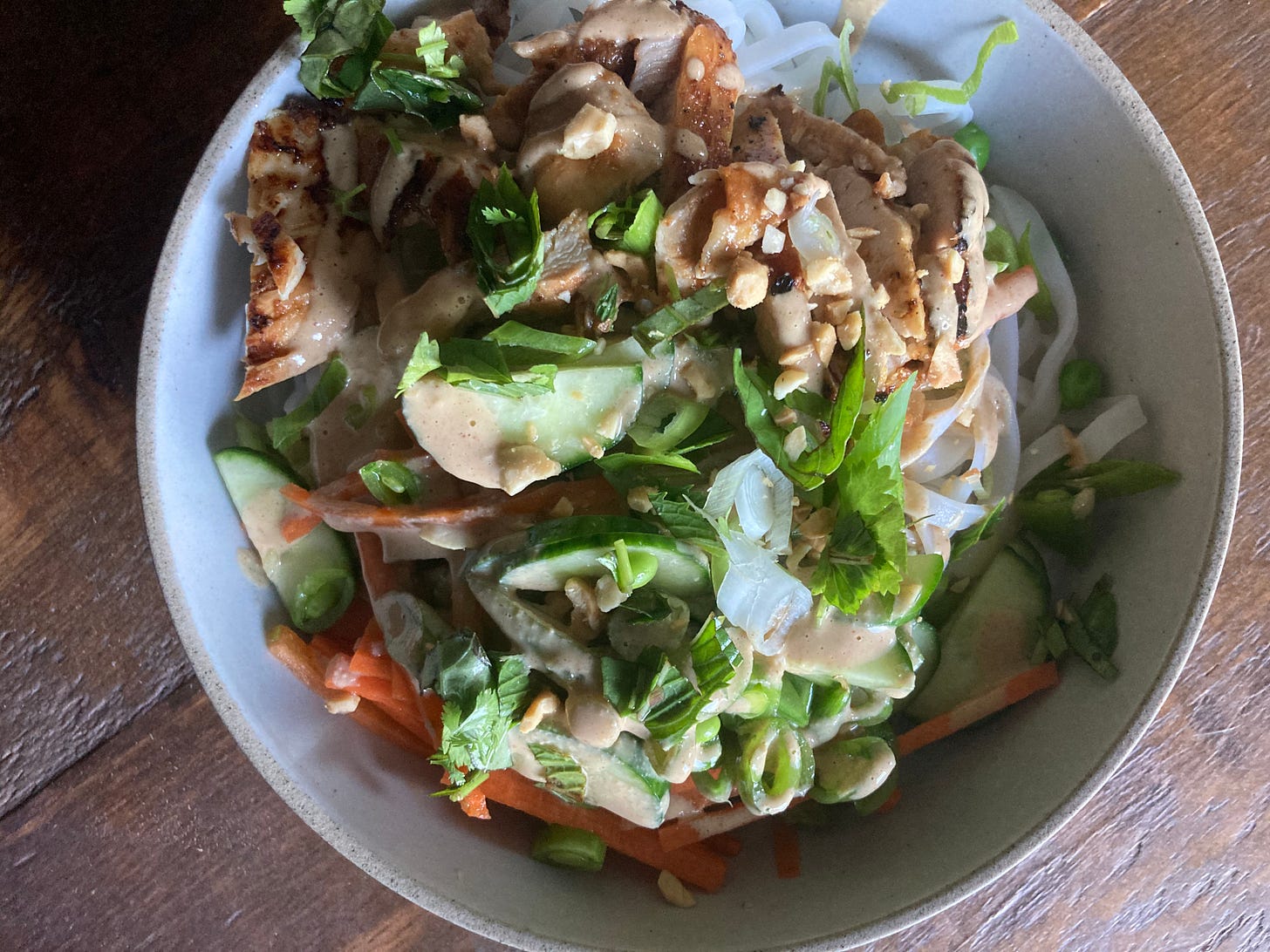 This week's recipe is a great example: "cold rice noodles with peanut-lime chicken." It was adapted from a David Tanis recipe for the New York Times by Deb Perelman of Smitten Kitchen, and I found it while Googling what to eat during a heatwave. It features chicken marinated in a peanut-lime sauce, grilled, then tossed with carrot, cucumber, herbs and rice noodles in a lime/fish sauce dressing. The end result is refreshing, texturally satisfying, and perfect for days when you refuse to turn the stove on.
As one reader pointed out in the comments, this recipe is very similar to a popular Vietnamese dish called bún thịt nướng (rice noodle [with] grilled meat—most commonly pork). Versions of this dish are found all over the country, with variations in presentation depending on the region. This was not acknowledged in the actual article. In fact, Deb was so many degrees removed from the cultural origins of the recipe that she tagged the post both "Thai" and "Vietnamese."
Did David Tanis give credit where credit was due? In his intro, he says:
Maybe cold pasta makes you think of some mediocre quasi-Italian grab-and-go deli choice in a plastic clamshell.

To me, it conjures up images of delicious Southeast Asian street food and warm ocean breezes. There, cool rice noodles are topped with crisp vegetables, sweet herbs, pungent sauces and usually a little savory element, like sizzled fragrant beef or nuggets of fried spring rolls.
There, where? No further elaboration. Southeast Asia remains an amorphous idea; a soft-glow lens on a Westerner's beachside vacation fantasy.
It matters that not all food from other countries receive this reductive treatment. We are quick to embrace a coq au vin and warm our souls with a bowl of boeuf bourguignon. We'll split a bruschetta and order the risotto. We revere these cuisines; we've made them part of our vernacular. Why can't we do it for others?
Food writer Bettina Makalintal laid it out simply: "Anglicizing a recipe's name can be done out of a sense of making it 'neutral' and therefore 'mainstream,'" she wrote for VICE. "[But] that version of objective neutrality is actually a stance centered on whiteness." It is the reinforcement of a culture that only exists through appropriation—erasing the presence of others so that they can claim foods (and practices, and land) as their own.
By renaming and adapting a recipe to make it approachable for a white audience, we are readily flattening a dish's cultural and historical context. What the readership gains in familiarity and accessibility, the original culture loses in recognition and a chance to finally be accepted by the mainstream.
Likewise, by choosing to go by a name that others can pronounce with ease, I have been putting their comfort before my own for decades—giving them permission to never look beyond this reduced, Anglicized version of myself.
Unlearning is truly the new learning, isn't it?

Recipe notes:
Smitten Kitchen's cold rice noodles with peanut-lime chicken. (Picture from her post.)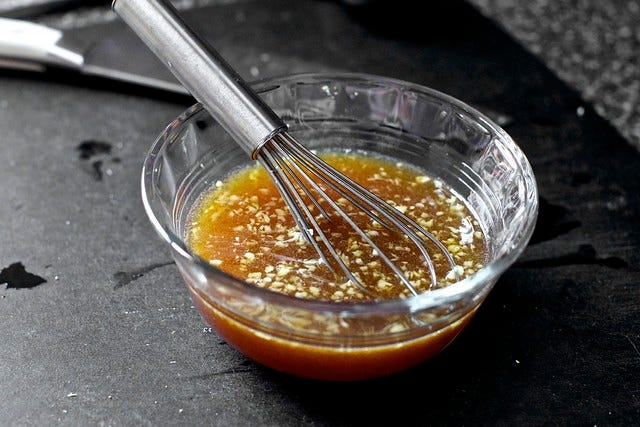 This recipe calls for an absurd amount of lime juice. I halved the quantities in both the dipping sauce and the peanut dressing, and did not miss the extra acidity. I would start there and build to taste.
It also recommends using a mix of three herbs (mint, cilantro and basil), which I did because I happened to have them on hand. The basil was distracting, and slightly dissonant with the rest of the flavours. (Thai basil might be a different story.) I would stick to just mint next time.
If you have access to lemongrass, take a tip from the Vietnamese and add it to the meat marinade.

Traditional takes:
• A version from Central Vietnam, via Taste of Hue, in which pork is marinated with lemongrass, and served with a peanut butter/liver/hoisin sauce.
• Another recipe from Southern Vietnam, via Hungry Huy, purportedly his mother's! Here the dish is served with a dipping fish sauce (nước chấm). He also breaks down the presentation variations between the different regions of Vietnam.
• The Northern Vietnam equivalent is bun cha (noodle [with] pork patties), in which the meat is served separately in a little cute bath of dipping sauce.
---
Thanks for reading, and see you next week. A reminder that if you want to reach out about anything, you can reply directly to this email. 🌿
Love,
Tracy / Tian