Carrot cake, and embracing the imperfect adaptation.
Adapted from: the jury's still out.
According to the humorist Robert Benchley, there are two kinds of people in the world: "Those who believe there are two kinds of people in the world, and those who don't." Irrefutable logic, no? As an incorrigible black-and-white thinker, I've always belonged to the first camp, dividing my experience of the world into halves: befores and afters, rights and wrongs, the things I loved and the things I hated. Cooking, I loved. Baking, I hated.
This dichotomy and what your preference for either reveals about your personality is well-trodden territory, but for me, it's simple: I'm never been a good baker, and I don't have enough of a sweet tooth to get good at it. I am daydreamy and imprecise, with little patience for waiting around for things to cool or for butter to come to room temperature. This, compounded by dyscalculia, AKA numbers dyslexia, is a recipe for disaster. (Listen, I don't love the pun either, but I was too lazy to go around it.)
Nevertheless, the desire to make something sweet strikes every few months, a frequency accelerated by the pandemic. Each time, I am crushed by the results. This time was no different. I wanted to use up three carrots from the fridge; I found a carrot cake recipe that looked so simple, I couldn't possibly mess it up. You know this is a set up for what comes next.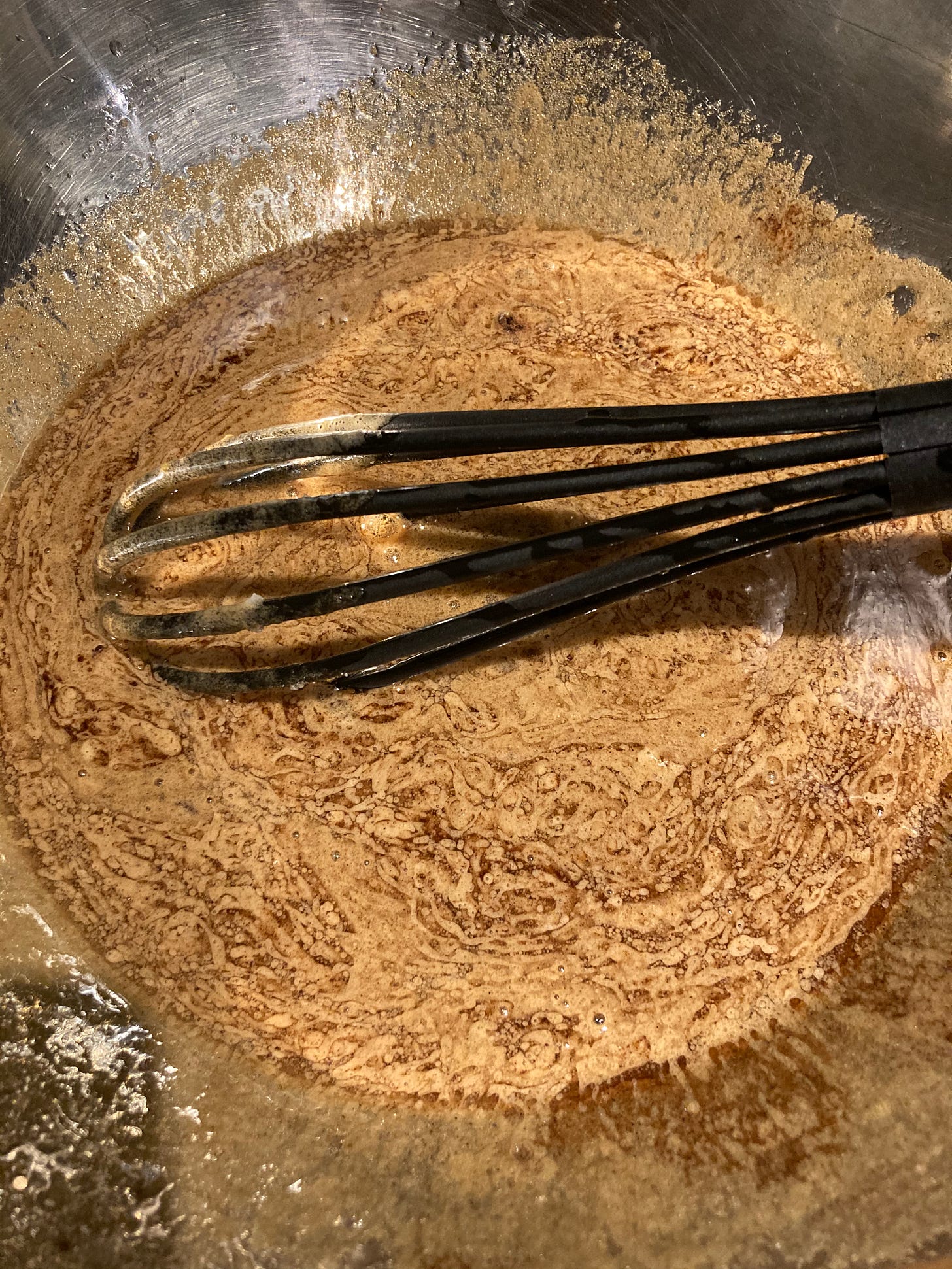 This was the only photo I took, mesmerized by the marbling. It all went downhill from here.
You'd think that the qualities I love about cooking—flexibility, adaptability, experimentation—would afford me a certain level of tolerance for an imperfect result, but no! I have inherited the cook's improvisational hand and the baker's perfectionism. I am incapable of accepting a dessert that does not look or taste like its Platonic ideal, and every degree of deviation from it feels like a personal failure. Like the coarse sea salt I used, which did not dissolve in the batter at all; or the pistachios I added, which gave the cake a strange savory quality; or the glaze that was imbibed immediately by the cake, leaving only clumps of lemon zest and grated carrot on the surface, like rotting algae washed ashore.
Not sure where I inherited this penchant for hyperbole.
Salvation came when I read more about carrot cake. As it turns out, it doesn't really have an ideal form. It doesn't even have a precise historical record. Some say it's derived from Medieval boiled carrot pudding. Others point to the Indian dessert, halwa, which is flavoured similarly with nuts and spices. It only started gaining popularity in America in the 1940s, as a clever way to use up dehydrated carrots left over from the war. Most sources mention the historical use of carrots as a natural sweetener in the absence of sugar; we know, from eating any carrot cake, that it is no longer their purpose.
In a brain like mine, there is the right way to make something, and there are all of the wrong ways. There is the perfect carrot cake, and there are renditions that fall short. But to think of a dish as something that is undefined, constantly evolving, always becoming another version of itself? That is freeing. If there are only two types of people in the world, perhaps there is still a chance for me to switch teams.
Recipe notes:
Carrot Loaf Cake With Tangy Lemon Glaze - Yossy Arefi for the NYT (pic theirs, obviously.)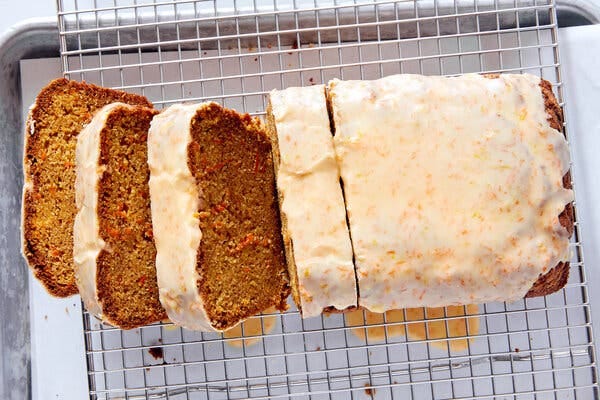 Because you have nothing to learn from me here, this week's notes comes from my friend A., an excellent baker whom I texted for glazing advice. Her suggestions: make sure to cool the cake thoroughly (put in fridge or freezer to expedite if you're impatient), thicken the glaze by adding more sugar than this recipe calls for, or consider helping it along with a thickening agent like corn syrup.

Related recipes:
• The curator of the Museum of Carrots (apparently a thing) has a favourite carrot cake recipe, which features the surprising addition of bananas to the batter to keep it extra moist.
• Food Timeline has an extensive collection of carrot cake recipes that chronicle its evolution throughout history. Includes a recipe for carrot pudding!
• If I ever recover from the disappointment of this one, here is the recipe I want to try next: "The Best Carrot Cake" from Gimme Some Oven.
---
Are you an expert at glazing? Send your tips my way. Otherwise, see you next week. 🥕